Since Summer 2012, all printing at North Carolina State University is managed by the papercut system. Papercut is linked to users' unity accounts, and is therefore automatically synced on laboratory machines when the user logs in. This allows for immediate printing directly from the lab computer. This system can only be used while connected to the NC State system from a lab machine or wireless network. Printing from a non-NC State system (example: off-campus) is only possible using a VPN connection.
Printing Cost:
Documents are charged per page at a set rate. There is one fee for color printing and one fee for black and white. Please visit WolfPrint's User FAQ for more information.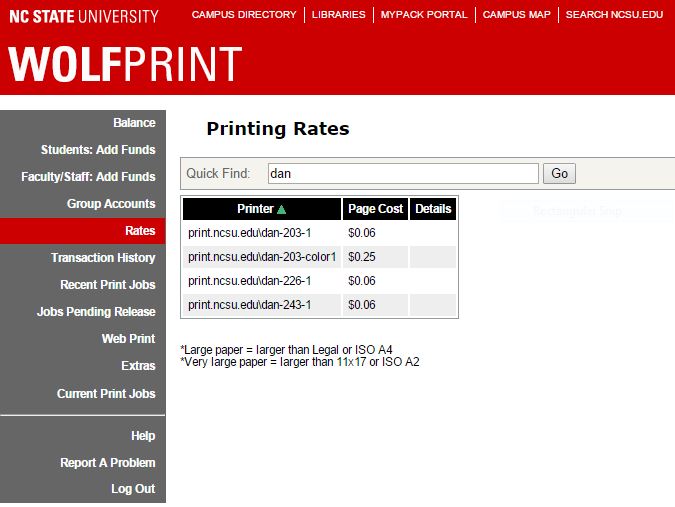 Adding Funds:
To add money to your AllCampus account online, see here.
To add money in person, visit the Wolfpack One Card Office, in Talley Student Center, between 8:00am and 5:00pm Monday through Friday.
Acceptable File Types:
Papercut will only allow users to print PDF (.pdf) files from personal laptop computers. Attempting to print other file types will result in an error. Below are instructions for converting files to the .pdf format for printing.
From a lab computer, users can print files without having to convert them to a PDF.
Converting Files to PDF:
Linux
Linux users can "print to file" from within an application. These files will usually be saved as filename.ps. These .ps files can be printed by the papercut system.
Mac
Mac OS X will let you choose the print command from within the application. In most cases you can choose to "Save as PDF" (from the PDF button on OS X 10.4 "Tiger") and OS X will do the conversion for you.
Windows 10
While Windows does not come with its own built in PDF distiller, there are applications available that will perform the process for you. Microsoft Word 2007/2010 has a 'Save As' feature that allows users to export the document as a PDF.
Steps to Printing a File:
1. Go to https://oit.ncsu.edu/my-it/wolfprint/
2. Log in with your Unity Credentials
3. Click on "Web Print" then "Submit a Job"
4. Select the appropriate printer, then "2. Print Options and Account Selection"
Hint: The building code found on your schedule is also the building the printer is located in.
5. Select the number of copies and specific account (if applicable), then click "3. Upload Document"
6. Upload a PDF file.
Note, failure to select a PDF file will result in an error message and will not print.

Pending and Recent Jobs:
To ensure that your document was sent to the printer, click on "Pending and Recent Jobs" found on the main Papercut website. Once you do so, the following will display:
Printing Issues:
WolfCopy maintains the public lab printers, including adding paper and toner. Contact WolfCopy if you have problems: wolfcopy@ncsu.edu (919-515-2131) or help@ncsu.edu (919-515-HELP).
DO NOT try to fix the printer yourself.